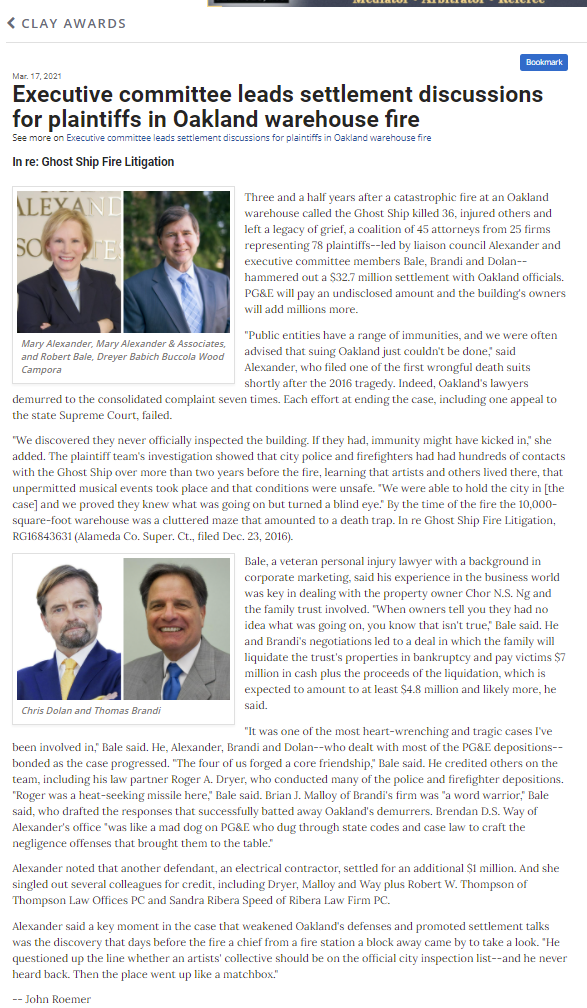 The deadly Ghost Ship Fire that claimed 36 lives and seriously injured many more occurred on December 2, 2016, in an Oakland city warehouse, which was known to many local artists as their live-in art studio. Unfortunately, this tragedy undoubtedly would have been prevented had proper safety measures been taken. What is now being referred to as a "deathtrap," the Ghost Ship warehouse contained a maze of makeshift rooms, cluttered with furniture, wooden sculptures, carvings, paintings, tapestries, and other flammable material.
The Ghost Ship warehouse lacked fire safety precautions and did not meet fire and safety codes required by the City of Oakland. There was no evidence of sprinklers or fire alarms, and there was limited access between the first and second floors. PG & E also failed to properly monitor and repair the Ghost Ship's electrical system, which enabled residents to illegally share electricity. The warehouse was found with overloaded circuits, substandard meters, missing meters, and defective transformers. The Ghost Ship fire ignited during a public music concert, yet the warehouse was not licensed to host public events. Therefore, it was not held to the same safety standards as other public venues in Oakland.
At the Ribera Law Firm, our hearts and condolences go out to the friends and families who lost loved ones in this tragedy. We are sympathetic to everyone affected by the Ghost Ship Fire, and are passionate about holding the responsible parties liable for their various incredible acts of wrong-doing. We hope to take it one step further by advocating for enforcement of stricter safety standards upon owners of warehouses, particularly those known to host unregulated public events. Otherwise, we may continue to see these types of tragedies occurring at buildings filled with safety hazards, such as the fire that just occurred at The Art Rattan Studios in Oakland's Fruitvale District, which has since been closed due to safety violations.
We understand that the families affected by the Oakland Ghost Ship Fire are going through an extremely difficult time and we offer our assistance in handling all your legal troubles associated with this tragedy, so that you are able to properly mourn and focus on your loved ones. Although the deadline to file claims against government entities has expired, there are still numerous claims that can be brought against many private parties including PG&E, the owners of the building, the master tenant, electricians, etc. Even if you were not personally injured by the fire, you may still be entitled to legal recourse in the following scenarios: 1) if you were a tenant who lived in the Ghost Ship warehouse, and have been displaced by the fire; or 2) if you witnessed the Ghost Ship Fire where a loved one was trapped inside.
If you or a loved one has been harmed or detrimentally affected by the Ghost Ship Fire, please do not hesitate to contact our firm today. We pride ourselves on being able to navigate through the treacherous legal hurdles which are common to these types of tragedies. We hope that our legal skills and experience can help provide you with the justice you or your family deserves.